Motorized Interior Shade Kit Instructions
MaestroShield's Motorized Interior Shade Conversion Kit offers the convenience, control and safety of motorization in one box.
Motorizing your interior shade is as quick and easy as 1.2.3.
1) Remove the manual control system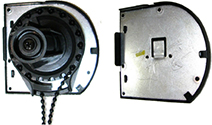 2) With a couple of simple modifications, manual control is replaced with MaestroShield's DC tubular motor, crown and drive.
3) Insert motor into motor tube, wire for power and set up control systems.
Conversion of manual interior shades into motorized shades can be done in just minutes!