Reach Taller heights and capture more business
We know you are wondering what's going on under the hood and we want to keep you in the loop. So here is a sneak peek of what we've been working on.
elements ™ Screen Motor Tube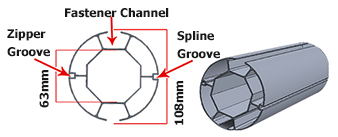 SKU: EX01-17/21
Description
4 1/4″ Outer tube for exterior solar screens
Reach taller heights with the NEW 4 1/4″ solar screen motor outer tube. Bigger tube diameter creates drop area for the zipper to drop into when rolling up the screen. This drop area allows for installations of up to 21 ft. tall.
Made of high quality 6063-T6 aluminium.
Small grooves on either side to either slide in a zipper or for spline
Bigger built-in channel on either side allows for faster assembling. Just drive screw through the groove. No pre-drilling, counter-sinking or filing needed.
elements ™ Screen New Recessed Track System

SKU: #WSA9030B
Description
Features our solar screen adjustable mounting bracket system. Perfect for trapped or surface mount installations
Two piece track allows for forgiveness with great adjust ability

Two installation options available: Bracket System and Round Hood
Features MaetroShield's zipper track retention for superior tension all the way across
Super easy to install seamless bracket system hides the solar screen almost entirely when not in use
New Rounded Hood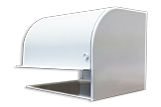 SKU: SM10F-5.5
Description
Our new extruded rounded hood for solar screens is lightweight and engineered for strength and durability . Its' sleek design makes it an elegant, yet heavy duty enclosure for our tubular motors.
New D.I.Y. Motorized Interior Shade Kit

SKU: Retractable Kit
Description
RETRACTABLES by MaestroShield is a Do-It-Yourself battery operated motorized shade kit. This system will provide the flexibility and freedom to create your own retractable.
Because our kit is battery operated, NO wiring is required!
Depending on usage, batteries need to be changed only 2-3 years.
Easy installation – Motorized install is the same as with any regular retractable.
Eliminate the need to manually adjust hard-to-reach window blinds.
Eliminate dangerous cords and create a safe environment for your children and pets.
Click here for more information and to order >>>
Meet T.O.M – The Online Maestro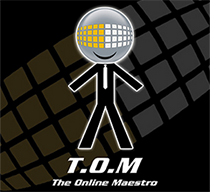 Description
We know the importance of having every piece of data you need at your fingertips to efficiently manage and run your business. With this in mind, we have invested many hours to custom design a comprehensive sales and estimate management web portal for our dealers, fabricators and distributors. The tools we make available to you were developed to meet your specific needs and, as a result, T.O.M. allows you to automate the sales and job estimate process for our roll down shutters and exterior screens, right from your phone or tablet anytime, anywhere there is an internet connection. Not only our free custom online solution is incredibly easy to use but it will save you numerous hours of work and effort.
We are excited to be able to provide this to you FREE of charge.
Software feature overview:
Email quotes in a matter of seconds
Generate bills of materials, pick lists and cut sheets
Create and place purchase orders
And much more…
Give us a call today and get access to our top of the line web portal!.